Pixelmodo Review
Pixelmodo review
Welcome to my Pixelmodo review & members area tour!
Hey there, my name is Jonas Lindgren.
In my Pixelmodo review that you're about to read (or watch, i'll include the video version too if you prefer that) you're going to see the members area, learn more about what the upsells are and on top of that, i'll give you some really cool bonuses if you choose to pick this up through my link which is located at the bottom of this page!
Get your copy + my bonuses here
Before we take a look at the members area, let's see what the sales page says:
That sounds pretty cool, doesn't it?
It is!
I know what you're thinking right now though:
"Jonas, Pixelmodo sounds just like Canva, which is free?"
Good point, and in many ways, you're actually right.
There's a couple things however that (to me anyway) makes Pixelmodo better than Canva even though you'll have to pay a small fee in order to use Pixelmodo, and i'm going to do my best to show you some of the differences between them, and why you may want to consider making the switch.
First of all, let's take a quick look at the members area:
The only thing most users will need to bother with here, is "create new design" at the top left corner.
Once you've clicked that, you're pretty much ready to start creating images.
First, you get to choose what kind of image you want to create.
Would you like to make an infographic, a YouTube thumbnail, a Facebook cover etc?
Choose that first, and after that you can get to choose between some pre-made templates or start from a blank page, which is why I did.
Here's something that took me a couple seconds to create:
My main goal here wasn't to create the most amazing picture you've ever seen, it was mostly to show you the things you can do.
As you can see on the tabs on the left side, there's a few things you can do:
Choose a background
Filter (add saturation, blur the background, change contrast etc)
Text & Quotes
Icons
Shapes
It's very easy to use and get started with, you won't even need to watch a demo video before, you'll understand how it works right away.
Now, one of the big differences between Canva and Pixelmodo is this:
Pixelmodo comes with a Google Chrome plugin that you can install, which then makes it possible to simply right click an image or text on the internet (make sure it's an image you're allowed to use!) and instantly import it into the image/text editor.
I know it doesn't take a ton of time to save and upload an image with Canva either, however I must say that for a lazy guy like myself, I love this feature.
Another cool thing is that you have access to tons of quotes built in that you can instantly add to a picture.
There's more cool things as well, take a look on the sales page to learn everything you can do with this product (link to sales page at the bottom of this page)
It's kind of difficult to explain what else you can do with Pixelmodo in text, so if you want to see a bit more about how it works, please watch my video at the top where i'll give you a better demonstration.
What about upsells?
I don't have a ton of information about them, but here's how much they will cost: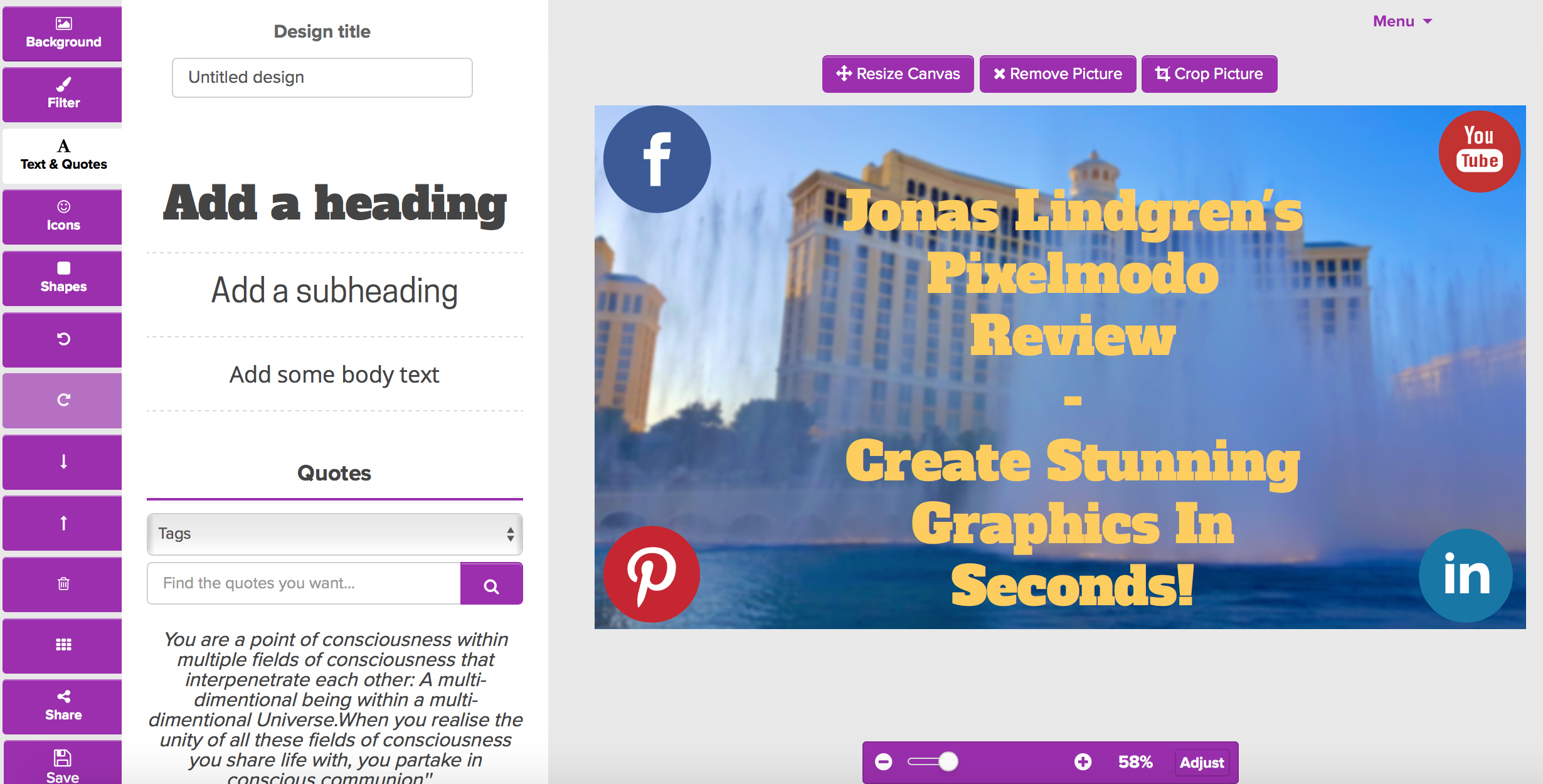 One of the things I know, is that "team access" means that you can create accounts for VA's to use, which is pretty cool. You can then share your creations with va's so that they then can do whatever they are instructed to do with them, or the other way around.
How about some cool bonuses?
Of course!
1: Video Alchemy 
A cool video making software that will enable you to make completely unique videos while displaying your images and graphics (that you'll be able to create in a flash with Pixelmodo!) and translating the audio and the text to the language and accent you have selected.
Let me know if you want the mac or pc version when you claim your bonuses 🙂
2: Product Creation Bootcamp
In this training, you'll see Neil's best strategies for creating an info-product in less than 4 hours. He did this LIVE in front of an audience and ended up selling over $1,089 worth of this info-product within 24 hours.
You're definitely going to want to see this.
If you think that this sounds cool and you want to pick up a copy of Pixelmodo + get my bonuses, you can do so here:
Thank you for reading or watching my Pixelmodo review I hope you liked it.
Have a great day,
Final rating: [yasr_overall_rating]